The effects of smoking on your health are horrible. You have heard over and over that smoking is not good for you but do you realize how detrimental the effects of smoking actually are?
Smoking can effect everything from your physical appearance to your long term health; slowly rotting away the important components within your body. Below are just some of the issues and risks that you could face if you smoke.
Wrinkly skin
Substances in cigarettes can cause dry skin and premature aging. Reduced blood flow also causes your skin to get less nutrition.
Yellow fingers
Handling tobacco products can stain your fingers and fingernails, turning them yellow.
Early menopause
Female smokers tend to enter menopause earlier than nonsmokers and experience increased symptoms such as hot flashes.
Erectile dysfunction
An erection requires adequate blood flow but smoking can constrict your blood vessels and make this process more difficult.
Cancer
Smoking related cancers can occur anywhere in the body. People who smoke have a higher rate of certain cancers, including cancer of the mouth, throat, bladder, kidneys, lung, and cervix.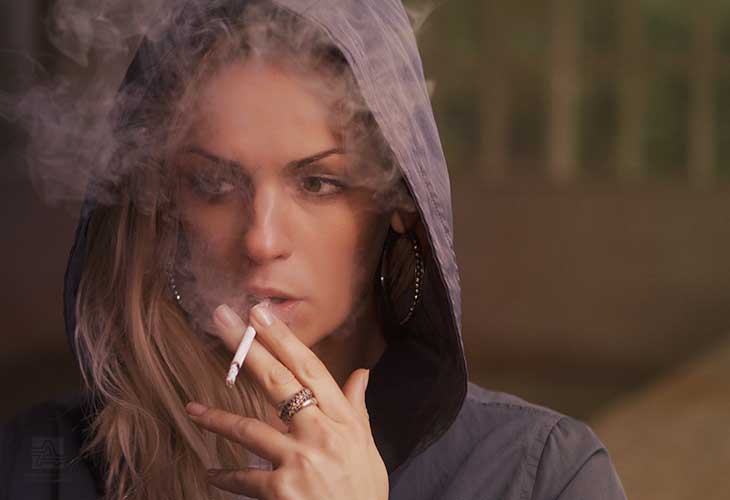 High cholesterol
Tobacco smoke lowers your HDL (good) cholesterol and increases your LDL (bad) cholesterol. It also raises total cholesterol and triglycerides.
Heart disease
Smoking is one of the well-proven lifestyle habits that contribute to heart disease. Both people who smoke and those who are regularly exposed to secondhand smoke are at higher risk for heart attacks.
Blood clotting
Smoking can increase clotting throughout your body. Blood clots increase the risk of heart damage, stroke, and pulmonary embolism (a blood clot in the lungs).
Diabetes complications
Because smoking increase the amount of insulin resistance in the body, Type 2 diabetes tends to progress more rapidly in people who smoke. If you have diabetes and smoke, then you are also at a higher risk for other complications such as kidney problems, eye problems, and heart attack.
Smoking is addictive and the effects of smoking can be detrimental but they can be overcome. If you are ready to stop smoking, then we can help.
Get Social
Stay in Touch
Hours
Services